April, 2004 - Volume 88, No. 8
County Budget Recommendations on Agenda for April 6th
April General Meeting, Tuesday, April 6, 2004.
7 PM Hazel Auditorium, Virginia Hospital Center-Arlington
(Map)
Urban Forestry Presentation
The first part of the program on April 6 concerns the Urban Forest Master Plan currently being prepared by the Urban Forestry Commission and County staff. The plan will discuss the environmental, economic and social benefits of trees. It will propose approaches to managing Arlington's tree canopy, including long-term goals, strategies and priorities. Speakers will include: Lyndell Core, chair of the Urban Forestry Commission; Steve Temmermand, chief of Arlington's Parks and Natural Resources Division; and Robert Corletta, one of the County's urban foresters. The Parks and Recreation Committee will also ask the Federation to consider the following resolution:
Be it resolved, that the Arlington County Civic Federation:

endorses the County's plans to work with Dominion Virginia Power and the Northern Virginia Regional Park Authority to develop an agreed plan for maintenance of the DVP right-of-way along the W&OD Trail;

favors adopting a management policy of "the right tree in the right place" to reduce the need for future tree cutting along the right-of-way;

supports the use of environmentally appropriate herbicides to ensure that invasive plants do not advance along the power line right-of-way;

favors close cooperation between Arlington urban foresters and DVP in identifying and tagging trees that should not be cut in future maintenance cycles;

supports restoring areas that NVRPA had identified as meadows, temporarily using stakes and ropes, and employing infrequent mowing or alternative techniques to control invasive species;

urges the County and DVP to provide advance notice to civic associations, other stakeholder groups, and individual users of the W&OD Trail prior to the start of future maintenance cycles;

favors establishment of a forum where representatives and members of stakeholder groups can meet with County, NVRPA and DVP officials to discuss planned maintenance activities.
County Budget Program
The second part of the main program will allow Federation members to discuss and vote on the proposed recommendations regarding the County Budget from the Revenues and Expenditures and Schools committees. The draft proposal from Revenues and Expenditures is as follows:
1. The Arlington County Civic Federation recommends to the Arlington County Board that it adopt a Fiscal Year 2005 General Fund Budget that is balanced at $712.2 Million [an increase of $46.5 million - 7% over the FY'04 Adopted Budget]. This would be accomplished by: a. Beginning with the County Manager's original revenue and expenditure estimates; b. Recommending a net reduction of $3.6 million in expenditures and contingents; c. Recognizing the Mid-Year Review net additional revenues of $15.8 Million; d. Re-estimating FY'05 real estate revenues (an increase of $10.8 Million); e. Estimating additional final FY'04 carryover availability and FY'05 miscellaneous fee increases; and f. Adjusting all revenue estimates to reflect the Schools/County Revenue Sharing Agreement.

The real estate property tax rate, within the advertised rate, would be reduced by 4.3 cents to 93.5 cents per $100 of assessed value. With the recommended rate, the average single-family homeowner's tax bill would still increase by about $366 - nearly 13% (rather than approximately $525 as proposed).

There is concern that this magnitude of increase, well above inflation and population growth, has continued for a number of years and is not sustainable for the County. This concern should influence future budget decisions and presentations.

2. The Federation recommends to the Arlington County Board a number of procedural improvements in budget presentation and in program operation as well as expressing its thanks to the Board and staff for adoption of a number of past Federation recommendations, such as summary presentations for program areas crossing departmental boundaries.

3. The Federation recommends to the Arlington County Board that: 1) it direct the County Manager to issue the Mid-Year Review and recommendations on the use of proposed budget contingents early in the public review process of future budgets, and 2) it direct the County Manger, through the budget guidelines for FY'06, to prepare a base budget proposal which provides a continuing level of services regardless of real estate assessments as well as readopt, beginning in FY'06, the Greenrod principle whereby budget proposals would periodically identify, agency by agency, the least beneficial programs for specific public scrutiny..

4. The Federation recommends that the School Board and the County Board reexamine the Revenue Sharing Agreement at least every four years. Any future revenue sharing agreement(s) between the County Manager and the School Superintendent should be subject to full public hearings before ratification by both elected Boards.
For the most up-to-date draft, please see the following links: http://civfed.org/refy05draft.htm and http://civfed.org/schoolsfy05draft.htm. Other Matters Pursuant to our bylaws, a Nominating Committee will be elected at the April meeting. The Nominating Committee will nominate at least one candidate for each office, and at least five members to serve on the Executive Committee for the election to be held in June.



Federation News
March Meeting Recap
At the March meeting of the Federation, Stan Karson was approved as an Executive Committee member to complete the unexpired term of Bobi Wallace, who recently resigned.

Two excellent panel discussions were presented, one on a review of development in the County, comparing the vision from twenty years ago to today, and a second on current issues in housing.



Federation Banquet a Success
At the Federation's Awards Banquet on March 26, 2003, over 120 people were in attendance to hear Scott McAffrey speak about civic engagement. Awards aplenty were given out (it's an awards banquet after all!) Certificates of Appreciation were presented to Anne Fisher, Steve Baur, Steve Geiger, Martha Moore, Bill Gearhart, and Jerry Auten. Special President's awards were presented to Inta Malis and Beth Wolffe. Dan Krasnegor won the Journal Cup, and the Order of Distinguished Meritorious Service was bestowed on Randy Swart.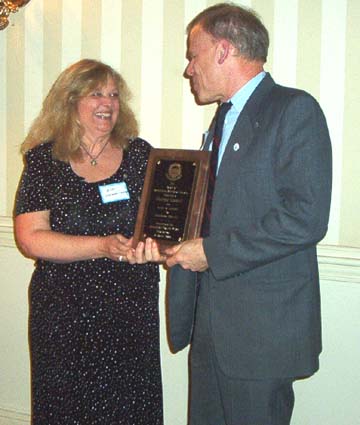 Randy Swart is Awarded the Order of
Distinguished Meritorious Service

Upcoming Meetings
In May, our delegation from Richmond will be our guests, and in June we hope to invite the County Manager to speak on the state of County Government. Arlington Neighborhood Day will be here before you know it-Saturday, May 8th. The deadline to register your group or neighborhood event is April 2, 2004. Additional information can be obtained by telephoning 703-228-3155 or 703-228-3952 (703-228-4611 TTY) during regular business hours.




Arlington Neighborhood Day
Neighborhood Day will be here before you know it--Saturday, May 8th. The deadline to register your group or neighborhood event is April 2, 2004. Additional information can be obtained by telephoning 703-228-3155 or 703-228-3952 (703-228-4611 TTY) during regular business hours.



Committee News

The Bylaws Committee will soon be holding a meeting to consider, suggested amendments to the Federation's Bylaws. Please send any ideas for revisions to Chairman Scott McGeary at smcgeary@washgas.com by April 16. Thanks very much for your consideration.



The next Executive Committee meeting will be held on April 20th at 7:30 p.m. at the Arlington Hospice. As always, Committee Chairs and Co's and any delegates or alternates who have something they wish to bring before the full Federation are welcome to attend -- as is anyone who wishes to join us to decide if you'd like to serve next year! For questions, please contact Kim Smith at jadam@erols.com or kim+.



At its most recent meeting, the Parks and Recreation Committee discussed the clearing of trees along the power line right-of-way that follows the W&OD Trail. We submitted a resolution for consideration by the Civic Federation on April 6. The committee also arranged a presentation on the Urban Forest Master Plan at the April 6 meeting. At the committee's meeting on March 29, Arlington Parks and Recreation Division chief Steve Temmermand joined us and discussed a wide range of issues, including how parks staff is organized and how the public can reach the right person to deal with particular problems. The next meeting of the committee will be April 26th at Washington-Lee High School Little Theater at 7 pm. For more information, please contact jay or lar+ry+.

---
While the Federation's committees provide opportunities to stay involved and make a difference, it won't help you, unless you and your organizations participate. You say that you don't have time? You can't stand meetings? Well, thanks to the hard work of Jay Wind over the last few months, there is a new, easy way to stay in the loop. Internet discussion groups have been established for all Civic Federation Committees. The new discussion groups make it easy to join committees, participate in discussion, and to keep up-to-date on the latest news without taking up all your time. Anyone who belongs to a Civic Federation member organization is eligible to join up. To sign up, all you have to do is go to www.civfed.org/egroups.htm and follow the instructions on the page.
---
Community News
Recycling Opportunity
On Saturday, April 17, Arlington County's Department of Environmental Services, together with Arlingtonians for a Clean Environment (ACE), is sponsoring another Spring Environmental Extravaganza. In addition to collecting household hazardous materials, there will be opportunities to recycle bicycles, and computer equipment. Compost bins will be available for purchase.

Building materials are not being collected at this event. The location of the Spring Environmental Extravaganza is at Thomas Jefferson Middle School. A brochure explaining the details and directions to the event is included with this mailing. Please make this information available to your neighbors and encourage them to take advantage of this opportunity. For more information, contact Phil Loar at 703-228-6832.



Energy Policy and Air Quality Event
A Public Forum on Energy Policy and Arlington's Air Quality sponsored by the Arlington League of Women Voters will be held on Saturday, April 17, 10-12 at Langston -Brown Community Center, 2121 N. Culpepper Street.

Speakers are Julie Crenshaw, Metropolitan Washington Air Quality Committee, Delegate Albert Eisenberg and Jon Morrill, Arlington Energy Manger. Info call 703-750-0970 or 7033-528-4428



Participation Sought on Project
Involving Arlington's Children and Teens
The Partnership for Children, Youth, and Families has put together Arlington's first Community Report Card on the Status of Children, Youth, and Families. The Report Card is a collection of 80 "indicators" that tell us how our kids are doing in the most important areas of their lives: health, education, families, and community.

The statistics in the Report Card suggest that there is both much to celebrate in Arlington and reasons for concern. Next steps are to select key indicators in each of the four areas; look at how well we as a community are doing; and set targets (or goals) for the future. For example:
72 percent of two-year olds in Arlington are fully vaccinated, and this number varies greatly among neighborhoods. Is that good enough?
Less than a third of young people feel they are given a useful role in the community. Is this acceptable?
COME LEARN ABOUT THE FINDINGS IN THE REPORT CARD AND JOIN US IN CHOOSING TARGETS FOR KEY ITEMS.
The Partnership needs you-as members of this community-to help us decide where we need to go. Young people are welcome! Please attend either one of these initial meetings to learn about this process: Saturday, April 17th, from 2 to 4 pm at Arlington Central Library Auditorium 1015 North Quincy Street; or Thursday, April 22nd, from 6:30 to 8:30 pm at Arlington Mill Community Center, 4975 Columbia Pike, Room 126. Child Care and Spanish language interpretation will be provided both times. To learn more, contact Anne Vor der Bruegge at 703 228-1667. The Report Card can be viewed at www.arlingtonpartnershipforyouth.org.


Are you still receiving your of The Civic Voice by mail? Save the Federation some of its limited resources-get the electronic version of the newsletter. Not only will you save the Federation money, but you will receive the newsletter several days earlier, and get the "full color" version! It's easy to switch-just send an e-mail to dan+, with "E-mail version" in the header.


---
The Arlington County Civic Federation
Officers 2003-2004
President Daniel Krasnegor (dan+)

Vice President Patrick Smaldore (pat+)

Treasurer Tim Wise (tim+)

Secretary Frances Finta (703-528-2882)


Executive Committee
Chairman Kimberly Johnson-Smith (kim+)

Vice Chairman Nancy Graham (nancy+)

Member Stan Karson (stan+)

Member Ken Marcus (ken+)

Member Randy Swart (randy+)




Committee Chairs
Ad Hoc Airport Issues Committee
(Co-chairs) Steve Baur (steveb+)
Steve Geiger (steveg+)
Bylaws
Scott McGeary (scott+) 703-750-4704
Community Relations
Beth Offenbacker (beth+) (acting)
Cultural Affairs
Herschel Kanter (herschel+) 703-536-6286
Environmental Affairs (Co-chairs)
Ben Axleroad 703-525-3083
Rob Simmons (rob+)
Governance - vacant

Housing
Joe Wholey (co-chair) (other co-chair vacant)
Legislation
Nancy Graham (nancy+) 703-243-4650
Membership
Frances Finta 703-528-2882
Parks & Recreation (Co-chairs)
Jay Jacob Wind (jay+)
Larry Finch (larry+)
Planning & Zoning (Co-chairs)
William Gearhart
(bill+) 703-522-2276
Martha Moore (martha) 03-527-+3782
Public Services (Co-chairs)
Anne Fisher (anne+)
Kim Smith (kim+)
Public Preparedness Initiative
Jackie Snelling (prepared+)
Revenues and Expenditures (Co-chairs)
Robert Atkins (bob+)
Randy Swart (Randy+)
Scholarship (co-chairs)
Tim Reese, Jim Pebley jim+
Schools (Co-chairs)
Roger Meyer (roger+) 703-671-3655
Terri Prell (terri+) 703-820-3782
Special Events
Frances Finta 703-528-2882
Transportation (Co-Chairs)
Jerry Auten (jerry+)703-536-5365
Ed Parks (ed)

+




Arlington County Civic Federation
c/o Dan Krasnegor
1305 N. Longfellow St.
Arlington, VA 22205






---

This page was last revised on: April 6, 2004.