Arlington County Civic Federation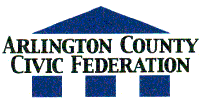 You are viewing the archived Civic Federation site. For current information, visit www.civfed.org.
Report of the Nominating Committee
April, 2002
Officers for 2002-2003



The Nominating Committee reports the following two recommendations to be voted on by the delegates at the June meeting. Passage of the recommended By-Laws change requires a two-thirds vote by the delegates present and voting.

I. The Nominating Committee met on Saturday, April 13, 2002. Members present were Ralph Leonberger, Laura Sennett, Michael Lane, Amy Appelbaum, John Antonelli, and Nancy Graham. The Committee recommends the following delegates for election as Officers and Executive Committee members:
President Dan Krasnegor
Vice President Nancy Hunt
Secretary Tim Wise
Treasurer Frances Finta


Executive Committee:

Robert Atkins
Nancy Graham
Michael Lane
Patrick Smaldore
Randy Swart
II. The Committee strongly recommends that the By-Laws be changed to create an ex officio position on the Executive Committee for the immediate Past President.

Respectfully submitted,

Nancy Graham



---
This page was last revised on: December 28, 2003.