Arlington County Civic Federation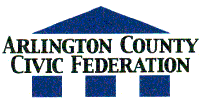 You are viewing the archived Civic Federation site. For current information, visit www.civfed.org.
Resolution of the
Arlington County Civic Federation
On 2003 Small Parks Grant Applications
Adopted on December 2, 2003
BE IT RESOLVED
that the Federation recommends that the County routinely maintain, repair, and replace its park property and equipment so that the County would not need to expend its scarce Small Parks Program funds for any such purposes.






---
This page was last revised on: December 27, 2003.