Arlington County Civic Federation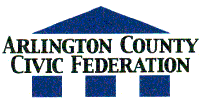 You are viewing the archived Civic Federation site. For current information, visit www.civfed.org.
Spout Run Bridge Proposal
The Doubleday Bridge


The ACCF Transportation and Parks Committees were approached during 2002 to support a project to replace Arlington's old Doubleday Bridge over Spout Run Parkway with a new pedestrian and bicycle bridge modeled on a design by Leonardo da Vinci.

The two committees met jointly to consider the proposal, but found that the civic associations on each side of the bridge had not taken a definitive position. The committees delayed developing a resolution for the larger Federation to debate until the neighborhood associations had acted. The three affected neighborhood associations all voted in late 2002 or early 2003, and all voted against the proposal.

The Federation considered a resolution declining to support the bridge on May 6, 2003, but decided to table it indefinitely. Thus the Federation has declined to take a position on the bridge.



For more information on the bridge proposal:
---
This page was last revised on: December 27, 2003.