Arlington County Civic Federation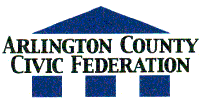 You are viewing the archived Civic Federation site. For current information, visit www.civfed.org.
Agenda For Our February 1, 2005 Meeting

Copies of this agenda will be available on the table before the meeting, along with copies of the "Modified Roll Call with Paper Ballot Voting", and "Progress of a Resolution from Introduction to Vote" procedures.
7:30pm Call to Order

1. Pledge of Allegiance (formal start of meeting)

2. Approval of Agenda

3. Approval of Minutes (Jan 4, 2005)

4. Treasurer's Report

5. Program - Public Services Presentation (90 Minutes)

6. Unfinished Business

7. Committee Reports (2 minutes each)

8. New Business

9. Announcements

10:30pm - Adjournment (est.)



---
This page was last revised on: January 29, 2005.