ACCF Annual Awards Banquet - 2002

Our guest of honor and keynote speaker, John Hager (R), former Lt. Governor and currently Assistant to the Governor for Commonwealth Preparedness. With his wife, Margaret Hager (L) and Patrick Smaldore, our photographer.



Winner of the annual Journal Cup award, Jim Pebley, with wife Cecile Rogers.






Distinguished Meritorious Service Award winner Nancy Graham with ACCF VP and Executive Committee Chair Dan Krasnegor.



Special Award winners: County Board member Jay Fisette (L) and County Manager Ron Carlee (R), honored for their performance after the events of September 11th, with ACCF President Jim Pebley.



Sophie Vogel, Certificate of Appreciation winner, with Dan Krasnegor.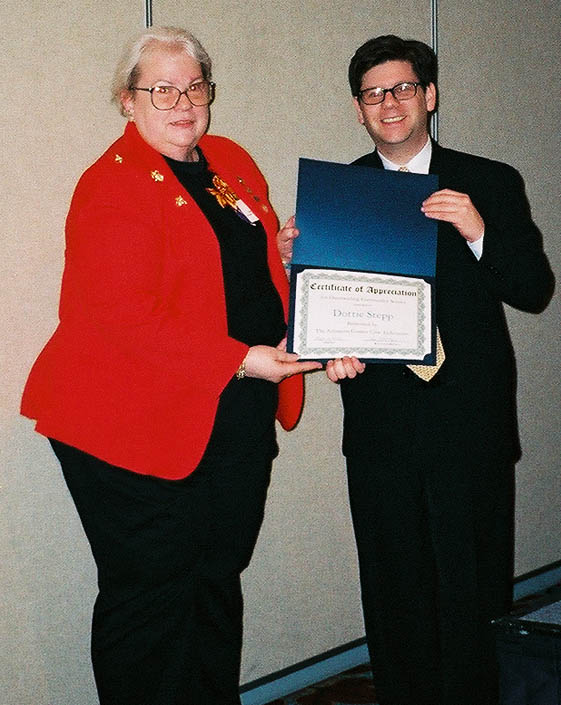 Certificate of Appreciation winner Dottie Stepp with Dan Krasnegor.



The Public Safety Committee won Certificates of Appreciation. Left to right: John Antonelli, Jackie Snelling, Anne Fisher (Co-Chair), Kim Smith (Co-Chair) with Dan Krasnegor.



President Jim Pebley (L) with President's Award winners Randy Swart (R) and Kim Smith.



We were honored with ranking police and fire officials: from left, Police Chief Ed Flynn, Jim Pebley, Deputy Police Chief for Operations Tom Panther, Assistant Fire Chief James Schwartz.



Police Chief Ed Flynn, flanked by two of his Captains, Rebecca Hackney (L) and Mary Gavin (R).