ACCF Annual Awards Banquet - 2004
The turnout was large, and this was a happy occasion.






Our guest of honor and keynote speaker was Scott McCaffrey, Managing Editor, Journal Newspapers and the Arlington editor for the Sun Gazette. We wish we had caught a better photo of him during his speech.
His talk was about Arlington, and focused on issues related to outreach and civic diversity. Scott is an interesting and thought-provoking speaker.



---
Awards
The Journal Cup
Dan Krasnegor
Dan Krasnegor receives the Journal Cup award from Barbara Hollingsworth, Editor of the Opinion Page, Journal Newspapers, as County Board Chairman Barbara Favola applauds.
Journal Cup Remarks
by Jim Pebley, Awards Committee Chair
The nice thing about being the chair of the Awards Committee Chair is that I get to give out one of the neatest awards of the evening. I believe it's the one that was the reason we started having these annual dinner meetings for anyway Before coming here tonight, I got curious about the history of the Journal Cup and looked it up on our web page. It seems that the first Journal Cup, which was then the Washington Star Cup, was awarded in 1938 to Robert Plymale for his work on the Public Utilities Committee. I wonder if he was working on a water problem? In any case, as I got to looking are more recent recipients, some familiar names started jumping out at me - like Ed Demony in '78, and Sue Zajac in 82 or Karen Darner in 88, Bill Gearhart in 89, Jennie Davis in 90, and David Foster, Monica Craven, Jean Mostrom, Evelyn Staples in 91 through 95. How about the names Wise, Swart and Finta in 99, 2000 and 01? Or that Bob Atkins and Kim Smith split it last year. Then it struck me that this award really represents kind of an Arlington Civic Activists Hall of Fame. And the thing you realize is that they don't just give it away. Now admittedly, I noticed that there seemed to be a pattern in recent times that every other year, a Civic Federation President seemed to win this award. And while I was recipient of that myself once, I got to thinking just why that seems to happen. Why is it that the committee had a penchant for recognizing past presidents as they were fulfilling that traditional last of two terms? So I decided to conduct a mental audit of just what our current President will have experienced in two years - and I was pretty impressed. In the past two years, I figured he wrote twenty newsletters, attended 14 Neighborhood day meetings, presided at 21 membership meetings, sat through 23 executive committee meetings, met our committees about 30 times and taken about a thousand phone calls. Dan - am I making you tired? ? That's about 100 pages of newsprint laid up, and 88 meetings and oh yeah, one laptop worn out. And during all that, you lead us all through an effort to establish a best practices for civic associations policy, delivered two legislative packages, hosted three political debates, reviewed two County budgets, established an Airport Issues Committee, sponsored the founding of the Arlington Citizen Corps Council, and hosted a training session for members on the basics of County planning and zoning and spend about a gazillion hours preparing for all these things. You had to become the jedi-master of Roberts Rules of Order because with this group, Bob's Guide to Good Meetings won't cut it. They'll eat you alive. And you filled all your committee chair vacancies and most importantly, keep this a meaningful and relevant organization in a county with a lot of organizations and never lost your temper once. And then thinking back on past presidents like Randy Swart's, I realized that for all that work and all those nights and all those phone calls - that being president can make you the hardest working Civic Federation Delegate of them all. But I still had to ask - does that make you worthy of the trophy that Bob Plymale received the first time? And I realized that it isn't just the number of meetings you went to, or the phone calls you answered, but the caliber of the leadership and the character of the leader that makes people want to trudge down to the Hospital auditorium every first Tuesday of ten months a year because what we do and what we say is important and you keep us focused, on track and civil to one another. And because you do that, what we do during all those evenings away from our families and homes makes this organization matter. And that's why, you and Randy Swart before you and Bill Nolden before him and Dave Foster before all of them earned this highest recognition we offer.

And because of that, it is my honor and my privilege to announce that the Awards Committee have found you, Dan Krasnegor, most worthy of this recognition that we would ask our sponsor Barbara Hollingsworth from the Journal Newspaper to bestow upon you on our behalf. And so to avoid risking a "call the question" from Bob Atkins or a point of order from Wayne Kubicki - would you please come up here I would ask our guests to rise and recognize you with applause and a hearty huzzah or two. Thank you.
---
Distinguished Meritorious Service Award
Randy Swart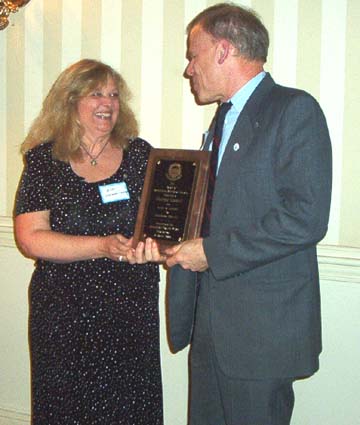 Randy Swart receives award from Executive Committee chair Kim Smith.



Statement in Support
of Award of
Member, Order of Distinguished Meritorious Service
Membership in the Order of Distinguished Meritorious Service is awarded for sustained exceptional service over a long period of years, and not necessarily awarded each year. It is awarded to a person who: (a) is a current or former active delegate to the Federation; (b) has made an outstanding contribution to Arlington County over an extended period of time; and (c) exemplifies the citizen activist as a positive element in community life.

In support of this year's selection, let me repeat what we said about last year's recipients of both the Journal Cup and the Distinguished Meritorious Service award, which is that this person personifies what Ronald Reagan meant when he said, "If you don't care who gets the credit, you can get a lot done."

This person was born in the heartland of America, and grew up in Virginia.

The person went to school at George Washington University.

This person retired from the Federal government, and also served as president of a civic association as well as being a civic activist on numerous activities. The person has been a delegate as long as most people can remember.

The above comments could probably describe any number of people here this evening. Consequently, our selection for the 2004 Distinguished Meritorious Service award does not yet know who they are. With the next set of remarks, though, you will begin knowing who will become the 21st member of the prestigious Order of Distinguished Meritorious Service.

The person was born in Chicago, grew up in Fredericksburg, and as a child made frequent visits to his grandfather's house in Arlington, which is 3 blocks from where he now lives

He entered the Diplomatic Corps in 1966, and served in Vietnam and in Paris. Later, he joined the Export Import Bank where worked on projects in various parts of the world. After retiring from the Federal government, he briefly resurfaced as a computer network technician.

He has been a long-term bicycle advocate. He founded the Bicycle Helmet Safety Institute, and his helmet information has been featured by newspapers, magazines, TV, schools, and consumer organizations. Consequently, it is no surprise to see him bicycling to Civic Federation meetings, even when those meetings are held in the dead of winter.

Among his lesser known accomplishments include: for many years, he played the bagpipes in the Washington Scottish Pipe Band, and sometimes can even be heard in the Barcroft 4th of July parade; plays bluegrass mandolin in the little heard "Swart Brothers Band;" loves traveling on his tandem bicycle, especially in France where he loves to eat; and last but not least, makes all his own bread, roasts his own coffee beans, and makes a mean latte.

By now, most of you know who this is, but let me list his Federation accomplishments:

He has been an active delegate for many, many years.

He was president of the Federation.

He has served on the Executive Committee.

He is the Federation's webmaster. For those who are not frequent visitors to the website, to say the least, it is content-rich. Some might think it's his full-time job.

He is largely responsible for developing the Federation's County Fair booth, and now helps staff it each year.

He has been a major contributor to the Federation's annual delegate orientation sessions.

He has served for many years on the Revenues & Expenditures Committee. People have lost track of the committees he has served on, both Federation and county committees, but some of these include Columbia Pike revitalization, infill development, neighborhood traffic calming, and the Neighborhood Conservation Advisory Committee.

Randy Swart is the 21st winner of the Order of Distinguished Meritorious Service



---
Certificates of Appreciation

Certificate of Appreciation
Jerry Auten, CivFed Transportation Committee Chair.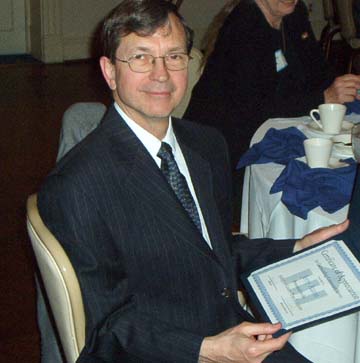 Certificate of Appreciation presentation
by Kim Smith, Executive Committee Chair
Our next recipient first appeared about three years ago at a meeting of the Legislation Committee as that committee was preparing its final draft legislation package. Evidently, he found that working with the Civic Federation was a place where you can make a difference. Now, since that time, he has served as one of the Legislation Committee's real stalwarts. And if that weren't enough, he then assumed joint chairmanship of a committee that covers a broad range of issues of vital interest to both public safety and quality of life in Arlington - and that would be the committee that has dealt with all issues relating to public transportation. He has acquired experience and exercised leadership in such subject areas as the study of arterials, parking which, is of almost always of acute interest to those living in the Ballston-Rosslyn corridor and the Rosslyn-Pentagon city corridor, on transportation issues in the Columbia Pike corridor, and a range of issues relating to the Master Transportation Plan and Metro capacity. Under his leadership, he developed one of the most well-received programs for the Civic Federation - and insured that delegates and alternates received hard copies of material to refer to as they continued the process of understanding what is on our horizon in the area of transportation. And if all that weren't enough, this year he also began serving on the Revenues and Expenditures Committee.

For his dedication and hard work, the Civic Federation is pleased to present this Certificate of Appreciation to Jerry Auten.
---

Certificate of Appreciation
Co-Chairs of the Planning and Zoning Committee
Martha Moore and Bill Gearhart


Certificate of Appreciation presentation
by Kim Smith, Executive Committee Chair
Education, citizen participation and public accountability are the words that best describe our next two recipients. The face of Arlington is changing. As land values escalate, as the demand for closer proximity to the Nation's Capitol and Arlington itself increases, so, too, does our formerly suburban landscape change.

The changes, and the speed at which they seemingly occur, can be positively mind-boggling, particularly to the citizens who have jobs, family commitments, and demands on their time that preclude them from spending the time to understand the intricacies of building processes that are multi-layered, multi-stepped but which nonetheless can have a tremendous effect on their lives.

Two Civic Federation representatives have devoted hundreds, probably thousands, of hours to breaking the rules, regulations and processes down into understandable language - by-right, C2, C-3, site plan, form-based, and a myriad of other terms that have specific meaning in the development processes, Our representatives have opened their knowledge and time to the greater community to help us make sense of it all.

Specifically, they have developed forums for delegates and members of the Civic Federation - forums that bring together the best and the brightest within and outside Arlington's government - people with hands-on experience in both the planning and zoning that are facilitating change in Arlington.

They don't confine their inquiry to merely the nuts and bolts of a building, the "who's" and the "what's" of the process. Their focus is to insure the full picture - the demographics of our population, the uses to which new building is put, the impact of change on county revenues, whether the infrastructure we have is adequate to support the building we're getting, and the legal constraints that exist -- what limitations exist on the County government, and what our Constitution and state statutes have to do with our change from suburban to urban.

This year's forum was incredibly well-attended and produced a demand for a follow-up educational session. Our two leaders within the Federation and far more extensively in the community, are more than deserving of a Letter of Appreciation from the Civic Federation.

Please join me in congratulating our Planning and Zoning Committee Co-Chairs, Martha Moore and Bill Gearhart.


---
Certificate of Appreciation
Co Chairs of the Airport Noise Committee
Steve Geiger and Steve Baur


Steve Geiger receives award from Excom Chair Kim Smith
Certificate of Appreciation presentation
by Kim Smith, Executive Committee Chair
It was just over a year ago, that some members of civic associations whose boundaries lie along the flight paths of Reagan National Airport approached the Civic Federation and asked if the Federation would join their efforts to find our voice in plans for the future of the airport. They said that they were interested in more than just noise abatement and wanted to try to working with the Metropolitan Washington Airports Authority (MWAA) and the Metropolitan Washington Council of Governments to participate in ongoing noise studies and to make sure that any changes would have a positive impact on our neighborhoods and citizens. Naturally, the Federation agreed and quickly created a committee on Airport Issues and encouraged the Federation's member organizations to join. And with that committee in work for more than a year now, it is making great progress. 17 of our member organizations are participating, the Co-Chair has been appointed, with the help of County Board Chair Barbara Favola, to participate as a member of the Part 150 Noise Study sponsored by the FAA. And with the full weight of the Civic Federation's 80 plus member organizations backing them up, our civic voices are being heard - over the sound of nearby passenger jets - looking out for our friends and neighbors.

The two co-chairs of this new committee have accomplished an impressive amount in a very short amount of time and are making a substantial contribution to the quality of life in our County - and for that reason, the Awards Committee was pleased to commend the leadership of co-chairs Steve Baur and Steve Geiger for recognition with presentation of the Civic Federation's Certificate of Appreciation for their outstanding work.
---
Certificate of Appreciation
Anne Fisher

No photo - Anne was unable to attend.
Certificate of Appreciation presentation
by Kim Smith, Executive Committee Chair
Anne Fisher could well receive the distinction of receiving the greatest number of consecutive awards from the Civic Federation for her service to the Federation and to the greater community.

Anne's work in the area of emergency preparedness is well known. Since 2001, she has worked tirelessly for the purpose of helping to better prepare Arlington's communities. As a Civic Federation delegate, she has served on both the Volunteer and Communications Task Groups of the Citizen Corps Council and is now working tirelessly to effect the County Manager's Top Ten goals for the "Arlington Prepares!" campaign.

She has been instrumental in the progress of the Public Services Committee, which she co-chairs, and under her leadership, efforts are underway to see major improvements in indigent legal representation, coherent standards for fire station location, and serious scrutiny of the health delivery system in Arlington, including the recently announced future closings of Dominion Psychiatric, Northern Virginia Doctor's Hospital, and the Urgent Care Center in South Arlington which will need to be relocated once site plan approvals in the area are completed.

Anne continues her work as a major facilitator of the county's Community Emergency Response Team Program and of the on-going development of a system of mutual aid for vulnerable populations in Arlington's neighborhoods.

In the midst of all this, Anne has also been a strong liaison between the Urban Forestry Commission and the Environmental Affairs Committee, devoting knowledge, time and resources to the preservation of Arlington's tree canopy and the eradication of invasive species - which nationwide costs the taxpayers 34.7 billion dollars -- on both public and private lands.
---
President's Award:
Beth Wolffe



President's Award winner Beth Wolffe.


President's Award Presentation
by Dan Krasnegor, ACCF President
While a name like the "Second Grade Brigade" may ominously sound like an army of 7 year olds, its taken on a whole new meaning to civic volunteerism at the Hoffman-Boston Elementary School here in Arlington this past year. This is a school just down Columbia Pike from us tonight and is a school where the staff works hard each day to overcome an extra steep hill their students have to climb in achieving passing scores on the state's standards of learning. And that's why one of our Federation delegates to decided to do something about it. That's when this delegate, an active member of our Schools Committee, who had some very hard won past experience in successfully mentoring children at risk decided to pick this school to help. But this time, helping just one student at a time wasn't enough - this time she wanted to help mentor the whole second grade. To do this she decided it was time to get others involved. So she visited civic associations, service clubs, churches and organizations like the NAACP, seeking out volunteers she could train and send off to help children at risk. Since starting in 2003, she's recruited and trained over 25 volunteers who work in teams of four volunteers to provide at least an hour a day, one on one with a child at risk to help then do their homework. Has it helped at Hoffman-Boston? You can talk to Pat Hymel, the school's principal and be the judge. But, based on my judgment as Civic Federation president and the recommendation of our Awards committee, I have chosen Civic Federation Delegate Beth Wolffe to receive a President's Award this year for her previously unheralded efforts on behalf of Arlington's kids.
---
President's Award:
Inta Malis

President's Award winner Inta Malis.


President's Award Presentation
by Dan Krasnegor, ACCF President

The Columbia Pike Streetscape Task Force, including representatives of eight civic Federation member organizations, completed its work earlier this year. It was chaired by one of our delegates, whose diligent work, patient organizing and outstanding leadership was responsible for much of the group's steady progress through multiple phases of initial investigation, education on streetscape issues, formulation of objectives, and the final winnowing down to a consensus recommendation for the design of the Pike's new streetscape. When unruly Task Force members threatened the consensus, this capable leader managed to bring the group back together with skillful adjustments that produced a balanced and equitable final product. The results will shape the redevelopment of Columbia Pike for decades to come, a considerable achievement. This award is for Inta Malis.
---
Our thanks to the Banquet Committee!
Frances Finta, Co-Chair
Patrick Smaldore, Co-Chair
Robert Atkins
Jeanette Bean
Adam Croswell
Jean Mostrom
William Munson
---
This page was last revised on: April 3, 2004.