Arlington County Civic Federation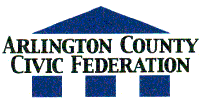 You are viewing the archived Civic Federation site. For current information, visit www.civfed.org.
Committee Charge: Community Relations

It shall be the duty of this committee to inform the press, and other community representatives, of Federation activities on a regular basis. The committee shall also respond, as necessary, to inquiries regarding Federation activities with the assistance of the Federation's officers and other committees.

-- Bylaws, Article VII, Section 6. For full document go to Bylaws














---
This web page was last revised on: July 5, 2007.