Arlington County Civic Federation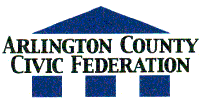 You are viewing the archived Civic Federation site. For current information, visit www.civfed.org.
Typical Civic Association
Expenses and Revenues (Fundraising)
by Jay Jacob Wind, President
Arlington Heights Civic Association
jay.wind@att.net
Expenses:
Publish newsletter

Rent meeting space

Conduct social events, e.g., holiday parties

Promote social action projects, e.g., home fix-ups

Reward accomplishments, e.g., Principal or Teacher of the Year

Run a float at Neighborhood Day parade

Prepare Neighborhood conservation Plan

Conduct traffic surveys

Provide web site

Maintain neighborhood property, e.g
common spaces like Barcroft Community House

Gardens and parks

Neighborhood gateway signs
Revenues:
Annual dues + household and business

In-kind support, e.g., meeting space, aid from County Staff

Newsletter and web site advertising + very hard to get

Donations from neighborhood businesses

Fees for services, e.g., rental of common space, social event tickets

Yard sales

T-shirt sales
You Need:
A reliable treasurer

An active membership officer

An annual budget

A designated time each year when you set dues for the following year

Application (dues) forms in each newsletter

Regular financial reports, at least quarterly

Annual revenues below tax return threshold

Activities that make neighbors and businesses want to participate
---
This page was last revised on: December 28, 2003.