Arlington County Civic Federation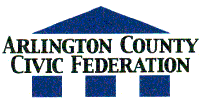 You are viewing the archived Civic Federation site. For current information, visit www.civfed.org.
The Honorary Delegate Award



This award is presented to individuals who have rendered especially valuable service to Arlington or the Federation. It requires a vote of two-thirds of the delegates present and voting to select an honorary delegate for a period of time designated by the members. Honorary delegates are entitled to attend meetings of the Federation and participate in deliberations, but are not entitled to vote.
Recipients
Nancy Graham - 2005
Roye Lowry - 2009
Here are the recipients of the Sun Gazette Cup, our annual award for the Civic Federation delegate who has contributed most to the work of the Federation over the past year.
Here are the recipients of the Meritorious Service Award.
Here are some recent Federation award winners.



---
This page was last revised on: February 15, 2010.