Arlington County Civic Federation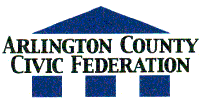 You are viewing the archived Civic Federation site. For current information, visit www.civfed.org.
Photos
Most recent first.
The County Board congratulating the Civic Federation on our 90th Anniversary - January 3, 2006.






And responding to questions from CivFed President Patrick Smaldore
Veterans Day 2005
Jim Pebley and Burt Bostwick join ACCF President Patrick Smaldore at 2005 Veteran's Day Ceremony. Shown with American Legion Post 139 Commander Elmer L.H. Lowe, Sr. and American Legion Membership Chairman Ron Miluszewski.



Veterans Day 2005 - Civic Federation wreath



Delegate Al Eisenberg and Arlington County Board Chair Jay Fisette accompany ACCF President Patrick Smaldore for the presentation of the wreath.
---
This page was last revised on: October 14, 2008.