Arlington County Civic Federation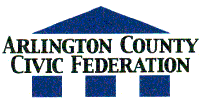 You are viewing the archived Civic Federation site. For current information, visit www.civfed.org.
Lyon Village Civic Association
Meeting Programs We Have Held
in the Past Few Years
by Martha Moore, Past President
Here is a list of some of the programs that the Lyon Village Citizens' Association has held as part of our regular General Membership Meeting.
Programs Scheduled Every Year
Candidates night (held in October)

Holiday Party (held in December in lieu of regular General Meeting; has evolved from a Christmas Party to a combination Christmas and Hanukkah party. We buy snack food. People bring some. We provide cookies to decorate. There is entertainment, usually the W&L Madrigal singers. Santa comes and kids tell him what they want for Christmas.
Programs Held in the Last Two Years
Rat Control - County staff spoke on the new rat abatement effort.
Walking tour of Clarendon followed by dinner at Facia Luna - This was held in lieu of a regular General Membership meeting. Attendance was low.
Financial Planner - A financial planner who lives in the neighborhood did a presentation. (I do not recommend this topic.)
Neighborhood History - Robert McAtee, a local historian who lives in Maywood, spoke about Maywood in the Early 1900's. (People are very interested in the history of their neighborhood.)
Livable Communities - Stephanie Bothwell, Director of the AIA Center for Livable Communities spoke about how community development should be implemented to ensure livable communities.
Dog Parks - Peter Spaulding from Clarendon Dogs made a presentation to ask for support for a dog park somewhere in Arlington. (People do care about dog parks.)
Retailer Night - The manager of the Glebe Road Harris Teeter store came before the store opened to describe it. Cable TV Arlington was invited to speak about their new digital service.
Scams - Corporal Lisa Herring of the Arlington Police did a PowerPoint presentation on the scams that are being done in Arlington Neighborhoods.
Neighborhood Conservation - Chris Nixon, County Staff who heads of Neighborhood Conservation, came to discuss what's covered on the night we were scheduled to vote on our projects.
Local Architect - David Ricks, an architect who lives in Lyon Village and specializes in renovation, showed slides and talked about projects. (People are interested in this topic.)
Code Enforcement - Susan Bell and her staff talked about the Code Enforcement program. The Code Inspector assigned to our neighborhood also spoke.
Traffic - We had several general and special meetings on the process/plans for neighborhood traffic calming.
---
This page was last revised on: December 28, 2003.