Arlington County Civic Federation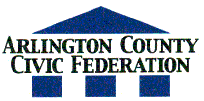 You are viewing the archived Civic Federation site. For current information, visit www.civfed.org.
Committee Charge: Legislation

It shall be the duty of this committee to study, report, and make recommendations on questions relating to the enactment or repeal of State and Federal legislation affecting the welfare of Arlington County; to assist the Federation in developing and presenting its position on such legislation; and to advise the Federation on legal questions referred to it.

-- Bylaws, Article VII, Section 6. For full document go to Bylaws














---
This web page was last revised on: July 5, 2007.