2015 Banquet Recap
2015 ACCF Banquet
The Arlington County Civic Federation's 99th Annual Banquet and Awards Ceremony was held Friday, April 17, 2015.  A copy of the program is available here [PDF, 360 kiB].
Congratulations to all of the award winners!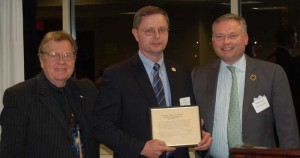 US Representative Don Beyer (VA-8)
$10,000 Check for ACCF's 9/11 Scholarship Fund
Over the past 13 years, the Civic Federation's 9/11 Scholarship Fund has provided grants of $1,000 a year for up to for years to seventy children of First Responders of Arlington. The Fund is in need of your support to continue as it has. Please make a donation with your check payable to 'ACF Civic Federation 9/11 Fund' and mail to Civic Federation 9/11 Fund, c/o The Arlington Community Foundation, 818 North Quincy Street, Suite 103, Arlington, VA 22203.
Guests at the Banquet