Arlington County Civic Federation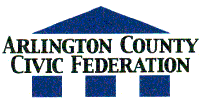 You are viewing the archived Civic Federation site. For current information, visit www.civfed.org.
Safe Routes to School


Arlington County adopted a Safe Routes to School program in 2000.

We have three files in .pdf format that explain background, describe the program and list the projects to implement it.

If your browser can't handle the .pdf files, please contact Roger Meyer or Terri Prell, co-Cha+irs of the Civic Federation Schools Committee.



---
This page was last revised on: December 27, 2003.