In Memorium: Burt Bostwick, 1941-2022
Farewell to Burton "Burt" Bostwick (1941–2022)
by Suzanne Sundburg, ACCF Revenues & Expenditures Committee POC
It's with great sadness that we report the passing of long-time civic volunteer Burton "Burt" Bostwick. Many of you may know Burt, as he served most recently as the Arlington County Civic Federation's (ACCF's) treasurer from 2019–2021.
Burt was a long-time member of and an ACCF delegate for Old Glebe Civic Association, most recently serving as Old Glebe's Vice President in 2021. Always a gentleman with a ready smile and a quick wit, for over 20 years Burt was generous with his time — always offering to lend a hand when help was needed. He served the ACCF faithfully until illness forced him to step down.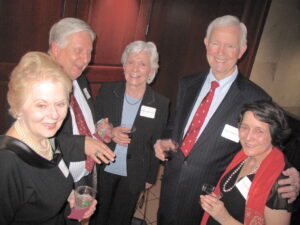 Below is a list of a few of Burt's accomplishments:
ACCF Executive Committee (now the Board of Directors) Chair, 2004–2005, member 2009–10, Vice-Chair 2011–2012
ACCF Secretary, 2006–2007
ACCF Revenues & Expenditures Committee Chair, 2005–2008, subsequently serving as the committee's point of contact for many years
2007 recipient of ACCF's Certificate of Appreciation for his substantial contributions as a volunteer
2008 recipient of the President's Citation from then-President Larry Mayer.
Closest to Burt's heart, however, was his volunteer work for the Friends of Gulf Branch Nature Center, which he helped to co-found and where he served as both president and treasurer in recent years.
We will miss Burt and express our sincere condolences to his family.
A funeral mass will be held at Our Lady Queen of Peace Catholic Church, 2700 19th St S in Green Valley from noon, Saturday 14 January 2023. In lieu of flowers, the family requests donations be made to the Friends of Gulf Branch Nature Center. To make a donation in Burt's memory, please contact Friends President Duke Banks.